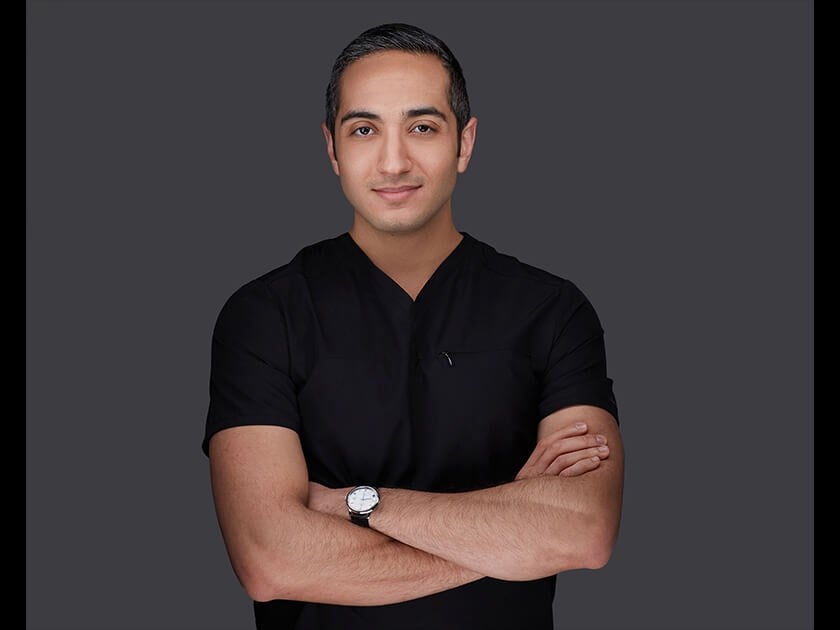 Dr. Saba Motakef is a board certified Orange County plastic surgeon specializing in aesthetic and reconstructive surgery of the face, breast, and body. Dr. Motakef strives to work closely with each patient to understand their goals and create highly specialized treatment plans in order to achieve beautiful, long-lasting, and natural results. Using cutting edge techniques and the highest standards of quality and safety, Dr. Motakef will go the extra mile as he strives to achieve a result that is to your utmost satisfaction. He believes in establishing long lasting relationships with his patients so that he can continue to serve them for many years. Dr. Motakef is also a strong proponent of optimizing patients' skincare and general health prior to surgical interventions and works closely with his patients to establish strategies before surgery to further enhance their outcomes.
Dr. Motakef specializes in providing cosmetic enhancements for the face, breasts, and body. He delivers lasting, natural-looking outcomes with plastic surgery procedures in Anaheim Hills, CA such as breast augmentation, breast lift, mommy makeover, tummy tuck, liposuction, facelift, and rhinoplasty. To refresh your appearance nonsurgically, Dr. Motakef offers BOTOX, JUVÉDERM, comprehensive skincare, and more. Dr. Motakef believes that it is his duty to his patients to provide them with the most sophisticated methods in plastic surgery, and works to continually refine his techniques to this end.
A diplomate of the American Board of Plastic Surgery, Dr. Motakef completed his undergraduate training as a Regents' Scholar at the University of California, Irvine. Afterward, he spent several years performing stem cell research at the Sue and Bill Gross Stem Cell Research Center in Irvine where he contributed to studies that led to the first stem cell-derived therapy to undergo clinical trials in the U.S. He went on to graduate with honors from Albany Medical College before completing a highly coveted integrated plastic surgery residency at the Loma Linda University Department of Plastic Surgery. There, he worked with renowned experts in the field to gain comprehensive expertise in aesthetic and reconstructive surgery. A Total Definer Master, Dr. Motakef underwent additional training in high definition liposuction and VASER liposuction with the originator of these techniques in Bogota, Colombia.
Leadership and Appearances
An award-winning researcher, Dr. Motakef is committed to staying at the cutting-edge of plastic surgery. He has published numerous clinical studies on a variety of cosmetic and reconstructive surgery topics including facelift surgery, brow lift surgery, rhinoplasty, facial feminization, buttock lift, breast reconstruction, labiaplasty, microsurgery, and craniomaxillofacial trauma and reconstruction. He has lectured to his colleagues throughout his career at local, regional, and international conferences. In 2015, Dr. Motakef was awarded a prestigious research grant from the Plastic Surgery Foundation to study pain management strategies in women undergoing breast reconstruction surgery. In 2016, Dr. Motakef was awarded the distinguished "Best U.S. Paper Award" by the Journal of Plastic and Reconstructive Surgery. Dedicated to outreach and humanitarian work, Dr. Motakef has traveled on medical mission trips to Haiti, Peru, and China.
A Southern California native, Dr. Motakef is proud to use his talents and expertise to help patients in Orange County foster a positive self-image with beautiful, natural-appearing results. Dr. Motakef currently resides in Yorba Linda with his wife Nicole and their two Shih-Tzus. In his free time, he enjoys fitness, travel, music, and photography.
Reviews
"Patient - I recently underwent a rhino and septoplasty with Dr. Metakef and hands down he was the best! Patient care, bedside manner everything from start to finish was just absolutely the best, my fiancé and I were shocked at how much time and effort he put in to me and my care. Words honestly can't express my gratitude and respect for him! Thank you so much!"
Anonymous
Vitals
"I had a great experience with Dr. Motakef. He listened to my needs and my anxieties. He made me feel comfortable through every step of the process. My results are exactly what I wanted and I cannot be happier. I highly recommend him!"
N.H.
Google
"In January I had a Face Lift with Dr. Saba Motakef, MD. I had 3 consultations, each with a different Doctor. However, Dr. Saba Motakef was by far the only physician that made me feel so comfortable to proceed with doing this surgery. I am so incredibly happy with my results! He was so attentive, he sent texts and did follow up calls to make sure I was comfortable. He payed attention to details and my concerns but also provided his best recommendation. The care that was provided by him carried all throughout my procedure into my recovery. I would highly recommend him for any treatments you are considering!"
S.
Google
"Dr.Motakef is by far the best plastic surgeon i got my dream surgery thanks to him.He's caring supportive and understanding. Thanks to Dr.Motakef I got EXACTLY what I expected out of my surgery and I'm so happy!!"
M.D.
Google
"Found Dr Saba Motakef through one of his clients I was looking to correct some lumps from previous filler (done by someone else) I also wanted a liquid nose job, I was nervous due to never being completely satisfied with my lips but as soon as I waked into his practice his staff and Dr Saba we're super nice, he actually took the time to do a consultation and discuss what I didn't like about my lips and nose he informed me that lumps are difficult to correct but omg he did an amazing job my lips are smoother, even and plump I'm so in love with my lips and my liquid nose job came out amazing I honestly couldn't be happier with my results I will definitely be returning to only him from now on for touch ups. Dr Saba Motakef was super sweet and down to earth guy he didn't try to up sell me on extra syringes he really only uses what you need he corrected my lips and my nose with only one syringe I mean can you say talented!!!!"
E.M.
Google
Related Posts